A good couple of years ago, there have only been so many learning management tools. Today, however, the competition is steep as new compelling entries are introduced all the time. So where does GoSkills fit it? Is it one of those up-and-coming runners or just another imitator of online course providers? We know the answer, and we are ready to lay down all the cards. Thus, without any further delay, let's dive into the GoSkills review itself.
What is GoSkills?
The internet is full of different tools that are designed to help you grow specific tools to succeed in a fast-paced environment. GoSkills, on the other hand, aims to do things differently. Instead of focusing on quantity, GoSkills aims for quality. This approach is baked at the very DNA of the tool as all material presented is not only super helpful but completely adaptable to just about any organization. This is further enhanced by the fact that this is a cloud-hosted solution, meaning you can access it just about anywhere.
Yet, what sells the system is its ability to develop, track, and distribute courses, webinars, resources, and classrooms. Whether you want a long, all-encompassing course or a bite-size lesson, GoSkills got you covered. You can also rest assured knowing that the system supports a myriad of different tools, including popular options such as Soft Skills, MS Office, Lean Six, among others.
As of 2013 (the year the company was founded), GoSkills enjoys growth and expansion. It is accredited by the Continuing Professional Development Certification Service (CPD UK), Project Management Institute, and it continues to inspire new people to gain new skills.
Main Features & Benefits
As you might have realized, there aren't that many features to talk about. However, those that are there are in order of magnitude, of much higher quality than that of the competition. They are much more polished and thought out. Here's what you can expect from GoSkills:
Massive course catalog
Let's start with the obvious one, the course catalog. In this case, it is 60+ long and unlike other vendors, carefully maintained. Most if not all GoSkills courses were designed by experts and come in different sizes. Some are small and others are longer, either way, you can always combine multiple of them into a single lesson.
Proper Placement Tests
To help save time, GoSkills comes with a wide range of placement tests that you can deploy right out of the box. You can also use them to learn what kind of progress was made and what skills and knowledge gaps are the most prevalent.

Source
Attendance Blending
Another great function of the system is the Blended Learning tool. It allows you to set up a specific course and see the attendance rate for both, offline and GoSkills online courses. If your staff is being trained using both means, then you can blend their progress seamlessly to form a single view of the course.
Social Component
A good chunk of the functionality of the system is tied to the social learning aspect. Both you and your students can keep track of their goals and achievements, as well as see how well they perform against other students. They also can view what other people are currently learning which helps promote social interactions.
Teams of Any Size
It doesn't matter how many students you have, you can keep tabs on each team through the analytics system. It will help you get data from many different components, including tests taken, results of the test, certification they have or earned, and what courses they've struggled the most. This will provide you with a good idea as to what issues your current course has and what type of students are impacted the most.
Gamification
No learning management tool is complete without a proper gamification system in place. From time-based rewards to daily streaks to tiers, GoSkills offers an extensive amount of customization and scalability to help you create a game you and your students will be happy to take part in. Thus, you will only boost the productivity of the GoSkills online classes you picked.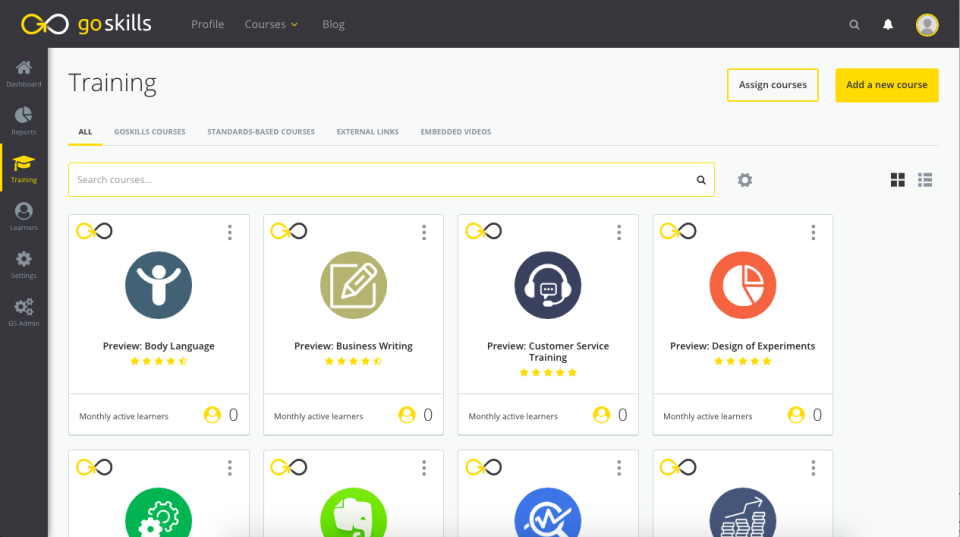 Source
Mobile Ready
Another benefit GoSkills brings to the table is its mobile readiness. Today, more people have smartphones than computers. GoSkills offers a responsive, mobile version of their website that you can use to learn, teach, and even evaluate performance. It is free and is being worked alongside with the desktop system.
Learn at your pace
Thanks to the robust mobile version of the platform, you can deliver GoSkills online courses anywhere, anytime. The system is cloud-based and is accessible 24/7 which means that your staff/students can review material at their own pace. This also means that lessons will be much less strenuous and more enjoyable due to the fact that no specific deadlines or time-frames are present.
No Content Caps
When it comes to content, there shouldn't be any limits. Thankfully, there is unlimited storage for GoSkills online classes that you can use to store material such as video, audio, written lessons without worrying that something will have to go one day.
Get accredited
A mainstay of any learning management tool is accreditation. GoSkills offers access to a number of experts that will evaluate your progress and materials. And in case you are wondering, all GoSkills online courses offered are already accredited by the Continuing Professional Development Certification Service UK so you don't have to worry that the program doesn't meet industry standards and guidelines.
Some disadvantages
GoSkills isn't perfect. Nothing is. The tool has a few issues that might turn off some of you. They aren't detrimental considering how many benefits you will get, but they are there nonetheless.
User Experience Issues — We understand that there isn't a universal formula to follow when most tools are aiming for originality but some options are either tucked away or outright hidden. A few adjustments here and there will not only solve the problem but draw more attention to the course.
Materials On-Demand — There are courses that don't come with materials attached but require that you have them. Providing a free non-downloadable copy would not only solve the issue but would make the course itself more valuable.
Missing Integrations — After you are done with a course, there is no way to connect the result to popular sites such as LinkedIn. This is a small gripe but other tools offer such an option. Besides, implementing such functionality is not rocket science and we hope that it will appear in an update.
No Mobile App — While we did praise the mobile readiness of their site, having a mobile application would be a massive plus. Browsers can be bloated with extra tabs and media files loaded in the background. All this can significantly reduce the performance of the site, and therefore, the experience. A mobile app would eliminate this complete as it wouldn't have to share resources with other tabs open.
There may be more issues with the tool but these are the ones that stuck out the most to us. They aren't that big of a deal, all things considered, but seeing as how GoSkills positions itself on the market, the issues shouldn't be there in the first place.
Tech details
And now for some technical details. In this section, we usually outline what kind of operating systems the platform supports, how many languages it has, and what kind of deployment methods available. Here's how GoSkills learning management system looks in this regard.
Table 1: GoSkills Technical Details
Language Supported
Device Supported
Deployment Methods
Pricing Models
Customer Type

Only English

Android

iPhone/iPad

Web-based

Cloud Hosted

Free

Monthly payment

One-time payment

Annual Subscription

Quote-based

Small Business

Large Enterprises

Medium Business
While we understand that GoSkills isn't a help desk and it doesn't need many deployment methods, it is quite puzzling to see that only English is supported. The amount of payment options is sufficient (we'll talk about the price to feature ration in our next section) and the fact that they serve both small and large companies is pretty good.
Pricing
And now for the juicy part, the pricing of it all. GoSkills aims to strike a balance of good price-to-performance ratio. We can't really help you here so experience careful judgment when reviewing the pricing options.
Table 2: GoSkills Pricing Options
Teams $0/learner/month
Library $2.90/learner/month
Enterprise $2.40/learner/month
All Courses at $39/month

Own course creation (link to any web content);

Team creation and course assignment;

Access to analytics;

Goals tracking for learners;

Social learning;

Gamification;

All that is in free, plus:

Access to more than 60 courses;

Courses for business skills;

All that is in previous entries, plus:

Classroom courses

Custom branding

Standards-based courses

Custom categories

Dedicated account manager

Access to all courses

Transcripts

Video materials

Exercise Files

Quick references tool

All sizes of quizzes

Infinite amounts of knowledge tests

Downloadable resources
As you can see, the prices aren't super steep but they can pile-up. If you are looking at the platform as a means to improve personal skills, we suggest that you don't even bother with an Enterprise level account as all you need is a Library.
User Reviews
And for our final part of the overview, we'd like to take a moment and see what other people think about the system. Or, in other words, read some GoSkills reviews from users and learn from first-hand experience. The reason we do this is that the best way to fail as a critic and review is to not look for stuff elsewhere. The more the people test, the more issues/gripes will be noticed. With that being said, we use popular review aggregators such as Capterra, G2, and other platforms to gather responses. Here's what other people think about the system:
Pros: Easily digestible bite-sized lessons, can start learning whenever there's free time.
Cons: When viewing GoSkills through Apple devices, instead of the video to show up in the default QuickTime player, it plays from the website's browser. This could lead to a bug where no audio comes through. The website's browser also leaves the whole URL bar visible, which is not fully utilizing the screen space.
Pros: Video materials are easy to follow, especially with the exercise files that are included. This allows me to easily learn new skills at home. Another benefit of GoSkills is that it was one of the few online learning platforms that offered accreditation.
Cons: I have no complaints about the courses. I find them informative and I am learning the skills I expected to.
Pros: Lectures are brief and concise which are perfect for students. Also, references and exercises are complement lectures.
Cons: More practical experiences and problems that can normally be encountered in a working environment would be a nice addition.
Final Notes
To sum up our GoSkills review, the system is great. It offers a lot of curated material at affordable prices. Sure, it is limited here and there but the core product is simply amazing. If you are looking for a robust learning management system, then this is the tool for you. It supports every kind of business and has a sizable catalog of pre-made courses. If you are on the fence, we suggest that you give the Team's plan a go. It is free and it will give you a taste of the system.
And if you want to move data to or from the system, we are here to help. Just click on the chat icon and we'll send our best people to help you solve your migration problem. In the meantime, thank you for joining!