The learning management system market is full of great tools. Each aims to provide as much material as possible but somehow, none seem to get it right as Canvas does. The platform is great, it offers a wide range of courses and Knowledge Base articles that you can use straight out of the box.
However, there's this one small problem that each business owner has to face and that is migration. Moving from one LMS tool to another can be a tough process but not an impossible one. Thus, as you might have guessed, we will be covering all migration methods (ok, there are just two of them) you can use to start working in Canvas.
We'll also be talking about things you have to do after the migration. As usual, there's a ton to talk about so let's not waste any time and dive into the methods.
What is Canvas?
Before we jump into the migration methods, let's take a look at what Canvas is and what it is not. After all, not all are aware of this great tool and many would like to learn more than what is presented on the official website.
So, long story short, Canvas is a dedicated learning management system designed to accommodate both business and academic needs. Whether you are a small company or a large learning organization, the system offers enough flexibility to suit any number of students.
Yet, what makes the system different from the competition is its excellent set of additional tools. From the dedicated mobile Canvas Parent app to the Canvas Catalogue marketplace to the Canvas Studio app, the platform offers a ton of tools that you can use to either enhance your learning experience or customize it and track the effectiveness of it.
Last but not least, the system doesn't just help you teach your employees or students but offers them a place for professional development as well as the ability to display their achievements using the ePortfolio platform that integrates directly inside of Canvas.
What does It Deliver?
We talked about the platform as a whole, now let's take a look at what kind of benefits you, as a user, can get out of the system. We'll start with basic features and gradually move towards advanced ones for readability reasons.
So, Canvas is not just an LMS app but an integration system as well. Companies and colleges once integrate Canvas into their workflow will gain access to barcode scanning, push notifications, image capturing technology, GPS tracking, mobile payments, e-signatures, access to business info, etc.
The second benefit Canvas offers is the ability to digitize certain work processes. What we mean is that you can scan your entire knowledge base, internal documentation, and store it within Canvas. This alone will allow you to share it more easily, not mention, access it. Furthermore, the system will allow you to gather feedback, corrections, and suggestions more easily and on a scale thanks to the included forms and questionnaires.
The third benefit of the system comes from its cross-platform availability. Whether you are running MS Windows or Apple's Mac OS, you can use the tool just as effectively. The same goes for mobile devices, Android or iOS, you get the same experience across the board. The only thing you'll notice is system-wide changes such as button positioning and menu transitions. Other than that, everything is just as good.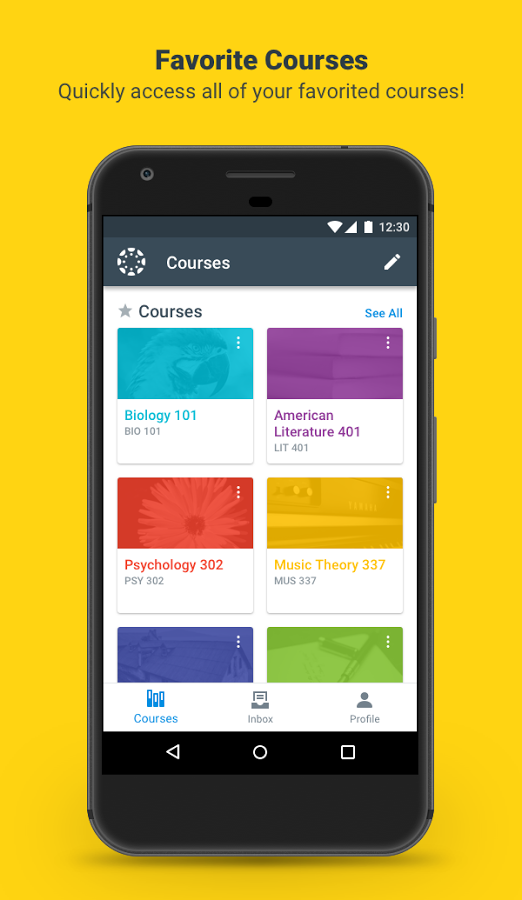 Source
Last but certainly not least, Canvas provides an extensive, even exhausting, list of integrations. We already mentioned that you gain a lot of benefits just by installing the app itself but there's more with third-party apps. Evernote, Google Drive, various ERPs, CRMs, and accounting systems can be hooked to the platform natively. This enables an unprecedented level of streamlining of work as you no longer have to juggle multiple windows, nor do you have to aggregate data since all of it can be consolidated into one Canvas (no pun intended).

Source
Migration Methods
And now for the meat and bones of this article, the migration methods. As we already mentioned, there are two primary methods of migrating to the platform, automated and manual mode. Let's take a look at each in detail to see which one is the better option.
Manual
To start your import process, you must first head over to your Canvas account and locate the Settings menu which is in the Course Navigation panel. Once there, you will see the Import Course Content menu. This will prompt you to select what kind of content type you want to import.
Select the one corresponding to your needs (if you can't find what you need, then skip to the automated method). Do keep in mind that the import file should be in .zip format. If it is a folder, just compress it using your archival tool of choice. Once uploaded, you will be asked to choose a Question Bank. If you don't have a Question Back you want to use, you can create one using the drop-down menu.
After that, you will be taken to the migration page. Select the content you want to move (you'll have two options, to select specific entities or move everything in one go). Once moved, you can adjust the Due Dates of Events and if needed, overwrite assessment content with matched IDs. And that's pretty much it, just press the import button, see how the blue progress bar finishes and start using Canvas.
As a small disclaimer, this method will only move one course at a time. No contacts, no accounts, no phone details, etc. will be moved. You'll have to recreate these things on your own which is not optimal if you have a ton of students.
Automated
Next on the list is the automated method. Before we start talking, we'd like to point out one thing, it is a paid option. If you are not willing to spend money on migration, it is understandable but if you wish to streamline the entire process and not worry about data compatibility and records being mismatched, then this is the method for you.
So to start your automated migration process, you must do the following list of steps:
Schedule a migration to initiate the transfer process;
You will see a drop-down menu where you'll have to pick the source and the target platforms;
In our case, the source is the tool you are currently using and the target is Canvas;
Once selected, the system will take you to a credentials page where you'll need to supply your access details to both your current LMS tool and Canvas (if you haven't created an account, this is the time to do it);
After you've provided the details, carefully map your data;
Additionally, after mapping, perform a demo migration (to verify whether all your records can be migrated or not);
Once your info has been moved, you can review everything and commit to Full Data Migration.
And that's pretty much it. You will just have to wait for the process to finish. Depending on the number of records, the process takes roughly one business day to complete. The pricing of the services is also worth mentioning. You pay only for the records moved, no hidden costs, no maintenance fees, no labor expenses needed, just your data that is factored into the price.
What to Check After Migration
Hypothetically, let's imagine that you completed your migration. What next? Next is to check how the entire process went. Your key objective is to verify whether all your records cut, whether they are readable, and whether there are any duplicates and whatnot. This process can take a while so we suggest that you dedicate enough time to complete it as not doing so will surely hinder your business processes later. Furthermore, you'll also need to set up Canvas itself so we are not done just yet.
Validate Links — This is the first thing you have to do once you've done migrating your stuff. See if all your links are working, see which ones need to be re-linked and updated as it is students who will be using them. If they are broken, your course loses not only credibility but accessibility.
Customize Course Settings — The second thing you should do is set specific course settings to take full advantage of Canvas. The menu offers basic course functions such as the ability to book it to your navigation bar and whatnot. If you want to allow your students to create their own threads, then you can find this and similar options in the "More Options" menu. Finally, while you are still there, you might as well set up a course image to make navigation easier, which leads us to the next step.

Source
Simplify Course Navigation — The third setup you should take care of is navigation. We suggest that you hide redundant links from your students and leave those that are the most used and helpful. Also, make sure you hide links to places your students don't have access to avoid unnecessary questions. Last but not least, we suggest that you show links to Modules, Announcements, Syllabus, Grades, MyMedia as these are essential.
Select a Home Page — Outside of serving a welcome role. Your course home page is your student's gateway when they are lost within the system. Also, make sure your home page fits and represents the entire purpose of the course.
Examine the Course in Student View Mode — This is the last thing you will be doing before publishing. Make sure your students see the course the way you need them to see it. Some things might not be visible when you are in admin mode so carefully study every nook and cranny of the system. Also, keep in mind that certain apps and integrations might not allow such a view option.

Source
Publish Course — The last part is to publish your course. Not doing this means your students can't access it. Before you do, double, no, triple check all settings and visibility options. Only when you are completely positive hit the publish button.
Bonus Point - Best Practices
Before we close this guide, we'd like to point out a couple of practices that you should consider when setting up Canvas.
Customize Your Dashboard. You can set up what course is visible on your dashboard using the Favoriting system. It'll allow you to select them based on the term, subject, or just by personal preferences. You can also add a color scheme and write down a nickname if necessary.
Add Syllabus. Select the current syllabus corresponding to your course. Alternatively, you can use the Course Syllabus tool to add it as a file.
Set Up Grades. Align your grading criteria with the syllabus and internal policies. Additionally, you can also set up Late Submission and Missing Submission policies. Plus, a "total" column will prove to be useful for both you and the students.
Clean Up Migration Leftovers. This one is pretty straightforward, clean up what data you don't need, or is not compatible to make everything look nice and tidy. To do so, we suggest that you filter records for duplicates, as well as keep an eye for unused stuff.
Final Takeaway
And that about wraps things for today. Migration between learning management systems can be a journey but hopefully, our guide will help you out. Both methods that we've listed are viable but if you have a ton of material to swap, we suggest that you use the automated option.
It is faster, more accurate, and the chances that things will go wrong are smaller. But that's all from us. Be sure to come back to read more useful and insightful articles like this and thank you for joining here today.