If you think that you don't need a learning management tool, you've probably never tried one. Many big and small companies all over the world have already recognized the value LMS platforms can bring to business development. We're here to tell you more about the leaders on the market so that you can benefit from the learning management tool, too. Believe us, it's never too late to start.
Today, we lay our eyes upon Lessonly – a learning management tool that has been around since 2012. So, sit back and prepare for a detailed overview of the above-mentioned solution.
What is Lessonly?
Lessonly is a cloud-based learning management system that was created to help its users improve overall team performance and deliver a fantastic experience. The way it works is straightforward – you create training materials and distribute them among your workers, who can access it from virtually any device at any time. Your goal here is to equip all of your employees with the essential knowledge and skills they need to perform their duties to the fullest. The best thing about it is that everyone can use it, from support teams to even human resource staff.

Such big names as McAfee, U.S. Cellular, Goodwill, HelloFresh, and more than 1000 other companies trusted Lessonly to close knowledge gaps their workers might have. No matter the format, complexity, and size of courses you want to create, Lessonly got you covered. Top it off with numerous integrations to BambooHr, Namely, Okta, Slack, Zapier, Zendesk, and a free 15-day trial, and you have a perfect learning management software to try.
Main Features & Benefits
If you need a bit more reassurance about why this tool is so great – we've got you. Lessonly doesn't offer an extensive list of features to talk about, but those that are present have been developed down to the smallest details. Here's what you can expect from Lessonly:
Unlimited lessons and courses
Lessonly provides a unique opportunity to create lessons and unite them under courses without virtually any limitations. It goes without saying that you can't simply have a one-size-fits-it-all course, so it's natural for you to have multiple. And that is certainly not a problem with Lessonly. Plus, if you forget to include something right away, updating and editing the existing course is extremely easy.
Automated Learning Paths
In case you're not familiar with it, learning paths are essentially sequences of courses that learners must complete. You can manage the order and other important details to make sure that the new information is based on previous knowledge and familiar practices.

Source
Files integration and accessibility
If you already have all of the information stored in Word documents or Powerpoint presentations, you don't have to bother about creating everything from scratch. Simply use the drag-and-drop option and enjoy the ease of working with Lessonly. No matter where the information is coming from, your employees can access it in no time. It goes both ways, and the tool allows you to export lessons for offline learning in PDF format. Moreover, with an open API, you can integrate Lessonly data with other tools for even better results.
Various formats support
We can't think of a single person who likes to learn through simply reading endless pages of text. If you're all about visuals and interaction like us, Lessonly is here to give it all. You can include images, videos, quizzes, and other cool things to keep everyone engaged. Implementing step-by-step screenshots is another great way to keep learners focused.
Easy-to-use software
Lessonly made sure that people with different levels of experience can produce and manage things by themselves. Whether you're a newbie to learning management tools or a dedicated user, it makes no difference. The menu is incredibly intuitive and user-friendly, which makes it possible to create courses with no extra effort.
Feedback system
To make sure the courses actually have some positive effect, feel free to implement quizzes – a proven feature that helps to get a comprehensive view of the results. Thanks to a Rehearse feature, you can enable employees to practice what they have learned throughout the course. The Gradebook feature can bring back school nostalgia, as you will be able to measure and estimate individual employee's or team's performance, just like a teacher would. In addition, if something wasn't clear enough, the learners could always use the 'Ask' button to put questions to the experts for a more detailed explanation of certain points.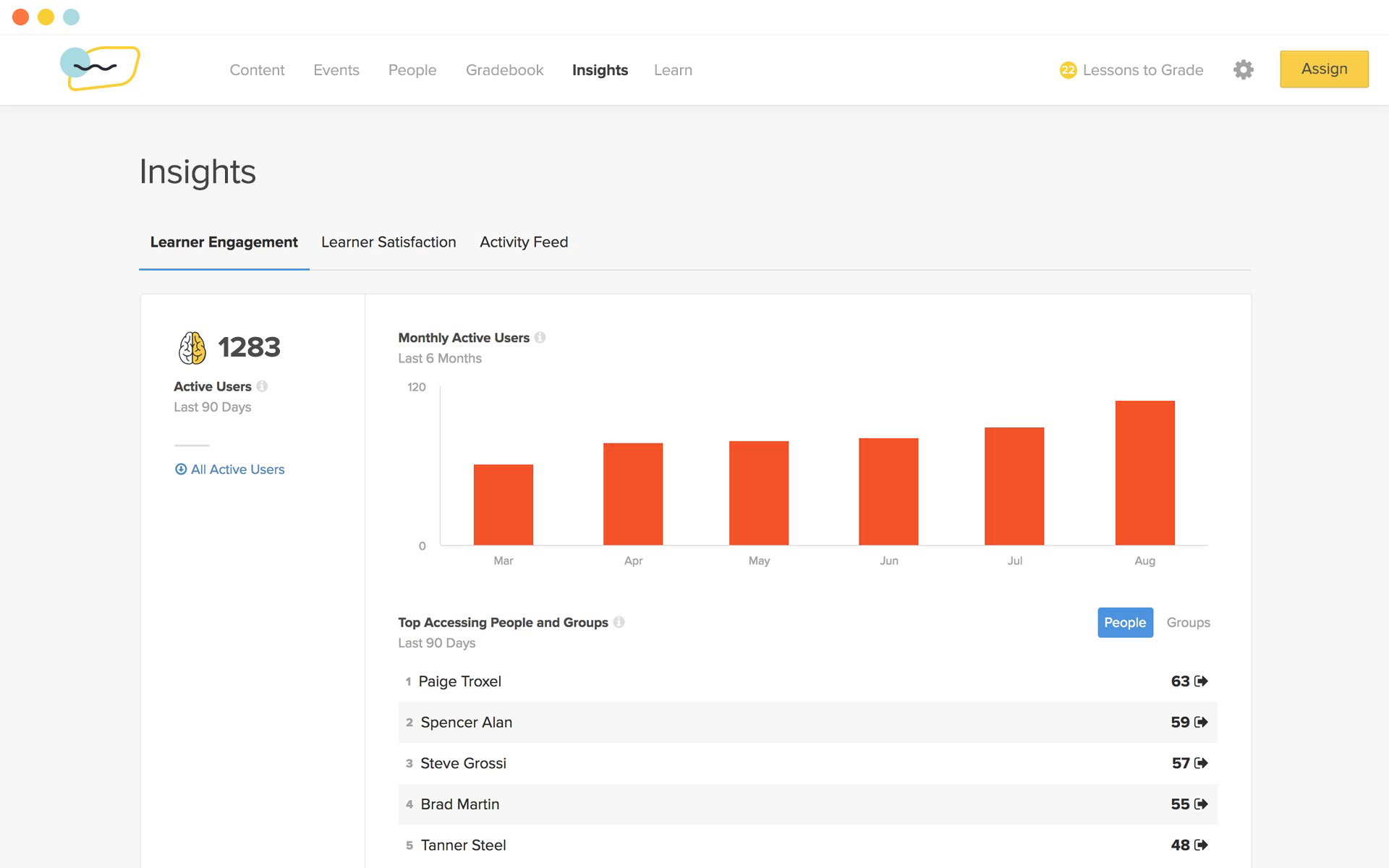 Source
Smart Groups
As the name suggests, Lessonly allows you to create groups and automatically add teammates to them. Thanks to this feature, all employees will be able to have access to the right lessons and courses at the right time. You can pair Smart Groups with learning paths, so everyone in a group will know where to start and what to do next. It is super time-saving, especially if you have a large number of people working for you.
Reduces Ramp Time
Pretty much every boss dreams about reducing ramp time for their new employees. As you might have realized, ramp time is the amount of time it takes for a newly hired employee to do their work in the most productive way. There are a lot of factors that influence the ramp time, like ignorance, lack of practice, the need to adapt. But, with Lessonly's courses, you can reduce the ramp time almost in half.
Lessonly University
You can easily access the most popular courses and other pre-made content that is available at Lessonly University. This learning hub contains different types of content, each designed with a specific purpose in mind. These types include 'Be a better Lessonly user,' 'Be a better trainer' and 'Train your team'. As a bonus, you can make the use of various templates, which will significantly reduce the time that has to be spent for course creation.

Source
Mobile accessibility
In today's world, everyone is using smartphones, and Lessonly is highly aware of that. Lessonly offers a mobile-friendly version of their website that you can use to learn, teach, and even track the progress. It is free and has all the benefits offered by a desktop version. So, choose your preferred device and improve your knowledge with Lessonly.
Less pressure
Numerous studies have shown that pressure negatively influences the learning process. Lessonly took care of this and made the due dates or, in other words, deadlines optional. It means that if your boss desires, he or she can leave the field empty and allows you to take as much time as you need for each lesson. If the deadline was actually set, the system of notifications and reminders will not let you miss it.
Some disadvantages
No gamification – You would think that the learning management tool of such a level would have gamification to help make the process of learning more enjoyable, but it isn't. Lessonly certainly loses a lot in this aspect, since for many users, it's a critical point.
No actual app – We've mentioned that the tool is mobile-friendly, and one can use a smartphone to create, learn, and even track the progress. However, the actual mobile application is yet to be created. The cloud-hosted is great in itself, but it cannot replace the app. We hope that Lessonly will take this into consideration, and soon all users will be able to enjoy its benefits to the fullest on mobile devices.
Issues experienced by users – We cannot think of a single tool, where users could enjoy everything without a single lag or problem. The Lessonly is no exception, as we've stumbled upon several complaints that the video and audio recording features often cause a lot of issues to create. It is certainly not that bad, but a few adjustments could go a long way.
Tech details
And now, let's focus on some technical details. In this section, we usually outline what kind of operating systems the platform supports, how many languages it has, and the kind of deployment methods available. Here's how Lessonly stands in this regard:
Table 1: Lessonly Technical Details
Language Supported

Device Supported

Deployment Methods

Pricing Models

Customer Type

Windows

Linux

Android

iPhone/iPad

Mac

Web-based

Large Enterprises

Medium Business
There isn't much to say about the technical details of Lessonly, as the lists are pretty small. However, we think that they could certainly thrive on the international level if they had multi-language support. Another thing worth discussing is the limitations of payment options, which is a turning point for many. On the other hand, Lessonly supports different devices and is available for businesses of different sizes.
Pricing
Lessonly's pricing is a bit complicated since no price tags are offered on the website. It is calculated individually for each team/company, considering the size and other factors.
Table 2: Lessonly Pricing Options
Pro

Pro + Coaching

Includes a personal Client Experience Manager and Lessonly's:

Intuitive Lesson Builder

Interactive Quizzes & Surveys

Automation & Triggers

Training Event Tracking

Slack & HRIS Integrations

More

Includes everything in Pro, Lessonly Practice including:

Webcam Recording

Screen Recording

Email Practice

Chat Practice

Ticketing Practice

Audio Practice
It's hard for us to provide a proper analysis of Lessonly's pricing models without knowing the actual cost. However, the users in their feedback often said that they're paying a pretty penny to enjoy the solution.
User Reviews
We're almost done with our overview of Lessonly, but we'd like to bring your attention to what users think about the tool. These software reviews are taken from popular platforms for leaving feedback like Capterra, G2, and FinancesOnline. We know that feedback and reviews from first-hand users are what helps to make the final decision for those who're hesitating. Our team tried to do our best and picked several Lessonly reviews for you to get a full picture of this learning management tool. Here's what other people think about the platform:
Pros: Really easy to build lessons without a lot of technical know-how. It is quick to get content in, publish, and assign out to users. The interface is very clean and self-explanatory to use.
Cons: Some of their text's options are limited (colours, sizing). You can't copy and paste whole sections of content from one course to another easily.
Pros: The Lessonly software design makes it simple to deliver quickly professional-looking training in chunks of bite-size that make learning simple. I like that, too, being quick to enforce.
Cons: I want to see more ways that users can communicate with the Lessons. Gamification, user input, and check video recording. I don't like that either after you've taken the time to create a learning content catalogue, it's hard to put that content in another format. To put it another way, leaving the LMS would be challenging.
Pros: Lessonly is so user-friendly for our team. Apart from a useful learning platform for our staff, our senior leads can easily create lessons and information we need to share with everyone.
Cons: It would be great for our staff to be able to record their responses and be able to do more practice work.
Final Notes
Here it is – our Lessonly overview. To recap, the system offers a unique way for team members and employees to close existing knowledge gaps from any preferable device. Sure, there are some drawbacks that cannot go unnoticed, but the offered features are just wow. Their intuitive interface makes lesson creation an enjoyable experience. We suggest you request a demo to experience the system first-hand, and only if you truly enjoy everything – subscribe to a plan.
And, if you do decide to start using Lessonly, we can help you move your current data. Hit the 'Chat' icon, and one of our best agents will get in contact with you to discuss the data migration of your dreams. As for now, thank you for joining, and we will see you on our next blog post.