In recent years, eLearning has gotten a lot of attention due to its potential and the reach it has. Learning management systems are based on eLearning and are great for deploying and managing online training initiatives for organizations.
An LMS is an efficient way for organizations to make online training of their employees accessible and manage its progress. For an organization, investing in a LMS is a great strategic move due to the many advantages it can provide in improving the knowledge base of an organization.
How to Choose the Right Learning Management System
Choosing the best learning management system can be a difficult task, with the market flooded with possible options. When investing your money and time in the LMS for your organization, you first need to analyze your needs and requirements. If you jump into it headfirst without any idea, you may end up wasting your effort and resources. Obviously, nobody wants that.
It is tempting to buy an LMS that has all of the top-notch features. But that LMS may not even be suitable for your organization. You do not want to invest in an LMS just to find out that you do not have the personnel with the required skill set to operate it. You may not even require such a complex system for your organization anyways.
We are here to help you understand how you can save yourself from taking a misinformed decision that you may regret later on. Read on to find out how to choose the right learning management system for your organization.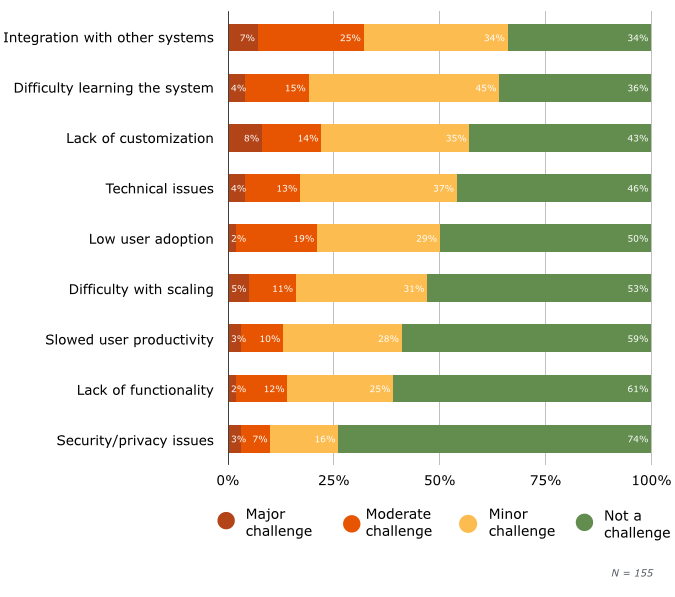 Identify Your Technical Requirements
The first step to finding a suitable LMS for your organization is understanding what your requirements are that you want it to fulfill. You cannot make the right decision without analyzing the technical requirements associated with an LMS.
User management
Do you want your users to register themselves into the system or have an admin do it?
You have to think about the user management for the system and how you want it to be managed. If you have a large number of people that you want to be enrolled for your LMS then search for a system that offers users' mass registration features. For example, a CSV upload, reducing the workload on the admins. This automated system will enter data itself without having the admins managing it individually.
If the turnover for the training is low, then find a system that allows for the learners to register themselves into the system. Another method is having multiple admins working on the system, having joint control.
Content
What type of content do you want to be created for your training modules?
There is a variety of content that can be uploaded on an LMS to train its group of learners. Plant out what type of content you want to created for training modules and what you already have. The diverse content may be in the form of PDFs, audio, video, or external links. This will better guide you in choosing the right LMS that supports the variety of content you want to be uploaded on it. This knowledge will also help you in saving cost. If you are only going to have limited types of content on it then buy an LMS that does not have too many features.
The source of the content is also an important technical requirement to consider. There are some LMSs that allow admins to edit and create the content from within the system.
Security
Does the system provide security to the information shared?
Security is one of the most important requirements of any LMS. In the eLearning process, the learners share their personal information in the system. You need to make sure that the system you choose provides security to the information shared. It doesn't have to allow others to access or log in to another learner's account as well. Evaluate the LMS in accordance of factors like user authentication, accessibility to the data shared and location of data storage. This will give a good idea of the quality of security given by the system.
Support
Does the response of support suit your demands?
Even if you understand how to use the learning management system, it is always helpful to have access to a good support service.
A way of finding a suitable system for your organization is to look for a user-friendly one. But you can also achieve this by contacting the support of the providers. The better is the response of the support, the higher it will be placed on your list of candidates.
Learning Models
Which learning model do you need?
Learning models are an integral part of a Learning Management System (LMS). The model for introducing your training schedules will determine what type of LMS you should use for the best results.
The learning model can be communicated through an instructor, who has control over the management of locations and the schedule overall. Or, it can be exclusively online. Select a model according to your training regimen, the number of learners for the class and the level of accessibility. In the LMS, the training can be done online, through an instructor or a combination of both methods.
Integrations
Which business software integrations do you need?
You need to ask yourself whether your company require the LMS to integrate with other business software or not. If your company uses any software necessary to incorporate with LMS then it will narrow down your options.
Reporting
How do you want to evaluate the performance of your learning initiative?
When you are dealing with any training or learning initiative then it is important to evaluate its performance and results. The way of measuring the progress of the training depends upon the goals specified by you earlier on. You can choose to have the data be exportable, have it be organized in the form of individual reporting or group metrics. Results guide the direction of the training program and inform the admins about the success or failure of the program.
Depending upon your choice, you can have an LMS that gives you the ability to customize your reports.
Additional Features to Have
When you have your basic technical requirements covered, you can explore other features that can elevate your training and learning experience. Some features that are great to have in your LMS include;
E-commerce – The courses created can be sold through the system
Gamification – Can motivate the learners when taking a course by awarding points or rewards at great performance
Social learning – It involves sharing and increasing knowledge in a social sphere
Certificates – You can create certificates through the system directly or upload them
Mobile Learning – The mobility provided through accessibility of the learning path on an app
Talent Management – Customize learning paths on the system to close the skills gap among the group of learners
Explore the Market for LMS Options
When you have gotten a better understanding of the basic requirements for a learning management system, you can move on to start exploring all of your options in the market. These options will be considered according to your organization's goals and agenda.
The task of finding a suitable LMS may still be daunting due to the large numbers of options available in the market but you can create a list of the systems according to the features that you desire. There are online websites that help you filter and shortlist LMSs. Another way to help shorten the list is by asking around people about their personal experiences with any LMS that they might have used. Looking up reviews online can be pretty helpful in finding Learning Management Systems that can prove to be the most effective solution for your organization.
While you are digging out information about possible LMS, you should keep track of the data you have discovered in the form of notes and an Excel sheet. This will require more effort but in the long run it will prove to be beneficial and will save your time in keeping track of the data.
Narrow Down the Options
Research is the best way to get the information that you need to make any decision. You cannot just expect to get great results from any plan or path that you choose if you have not played your part in gaining some knowledge about it. The same rule applies for when you are trying to find a learning management system that is the best fit for your organization and its goals.
To narrow down the list of possible LMSs that you have created, you need to check out their past performances.
Look at the history of the LMS provider and if they have any achievements or not. The collaborations that they have had with business and the type of businesses they worked with have to be considered.
Few of the leading materials to search up are the vendor's involvement in business, the experience they have so far and how they incorporate innovation in their systems.
A good LMS provider will ensure that the users are given the appropriate support so that they understand how to operate the systems. This knowledge base, targeting the common questions and concerns, will give you an idea of how well an LMS will support and benefit you in the future. After eliminating LMSs from the list, with only a few left, you will move on in the process of enabling eLearning to take place.
Demo
For you to decide if an LMS is the best for your organization and has the features that you are looking for, you can request the LMS provider or vendor for a demo.
Checking a demo is an enlightening process. This is a good time to get answers from the vendor about the system, its costs, security and other technical areas.
This close interaction with the providers will give you an opportunity to assess the performance of the LMS but also ask any questions about information that you could not find out yourself. This step promotes cooperation between the parties.
Trial Process
When you test the demo that you have been given, you can get a clearer idea of which LMS is the most suitable for your organizational goals and satisfies the needs that you listed. During the trial process, you can check the behavior of the vendor and how they deal with any problems you might be facing and the questions that you want answered.
There are also systems online that allow a free trial for a certain time period, giving you an option to explore multiple LMS. During the trial, focus on the usability of the software, is it easy enough that your learners will not face any problems in their training. You should observe the various features that it has, whether they work efficiently and if they benefit you or not.
The trial process is necessary to assess whether the system that you have chosen fulfills the role that you want it to play, acting as the solution to your problems. You can also identify any issues in its usage and management that you may face. You can get these issues fixed or remove the LMS from your list of options.
Conclusion
You cannot expect one LMS that works for some other company to work for yours. Every company has its own requirements and limitations. To ensure that you do not choose an Learning Management System that is a wrong fit for your organization, compile a list of basic technical requirements that you are looking for and conduct your research. Being specific about the needs that you have as an organization will make the process of finding a sustainable LMS solution easier. As you are investing your time and money into looking for and setting up an LMS for the purpose of training your personnel and creating a platform for knowledge provision and sharing, be as vigilant about it as you can. Find a solution that can help you grow as a company and evolve alongside you.